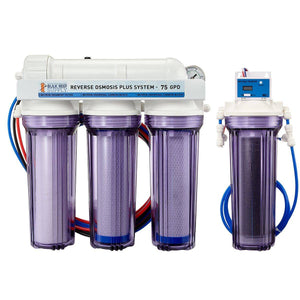 Makes up to 75 Gallons of RODI Water Per Day!
BRS 5 Stage Systems are our most popular systems and are great for a majority of wells, along with city water that is treated with chlorine, or small amounts of chloramines. The single Color Changing DI stage comes on its own bracket allowing you to customize the installation depending on the space you have available. Every BRS RODI system can be installed within minutes with the easy to use Mur-lok push-connect fittings that allow you to make leak-free connections. 
PLUS RO/DI System Included Upgrades
HM Digital Inline Dual TDS Meter - Instantly know the purity of your water, before and after the deionization stage. The inline probes come pre-installed and with the simple push of a button, your waters TDS is displayed on the LDC monitor. 
Glycerin Filled Pressure Gauge - Reverse Osmosis membranes require a particular amount of pressure to operate efficiently, and using a pressure gauge will help ensure your system is performing correctly. Pressure Gauges also work as a great indicator of when sediment or carbon blocks start to become clogged. 
Membrane Flush Valve - Keep your RODI system running like new by flushing the membrane for a few minutes before and after each use. Membrane flushing helps remove any built-up mineral deposits from your membrane, that could harm performance, or even cause a complete clog.