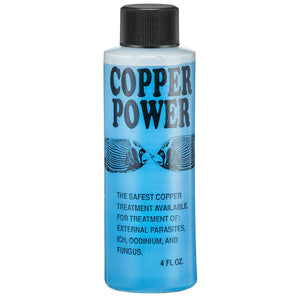 Thanks to its special formulation, Copper Power is one of the safest and yet most effective copper solutions for treatment of external parasites, such as ich and velvet. Copper Power contains a very stable form of copper medication with low levels of precipitation, and thanks to this it is able to be maintained at higher concentrations of up to 2.5 ppm copper, which is nearly five times the normal toxic level in saltwater. This allows for higher copper concentrations than some medications and more effective treatment protocols, and Copper Power has become the copper treatment of choice for many in the hobby. 
Features
Highly effective against external parasites such as ich & velvet
Super low rate of precipitation of 0.01 mg/1/24 hr- won't clog fish gills
Very stable in saltwater and much less toxic form of copper
Will not be removed by carbon filtration & will not cloud the water
Because of Copper Power's extremely low rate of precipitation, it does not have to be constantly reapplied in order to be effective. One application of Copper Power remains at an active level in the water for months. Copper Power is also a very consistent solution, providing accurate and reliable dosing concentrations.