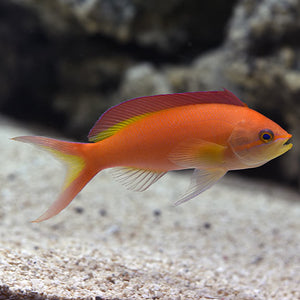 The Ignitus Anthias from the Maldives is also appropriately called the Flame Anthias. Gorgeous gradations of fiery reds, bold oranges, and vibrant yellows of the Ignitus Anthias add color and vitality to the FOWLR or reef aquarium.
The Ignitus Anthias is a reef inhabitant in the wild. It is a shallow water species that thrives best in a 125 gallon aquarium with one male and up to ten females. When housed singly, 70 gallon tank is sufficient.
Anthias species all share the trait of being hermaphroditic. If a dominant male perishes, the largest female of the group will often morph to take its place. When courting, the coloration of the male Ignitus Anthias intensifies greatly and the bright red dorsal fin is held in an upright fashion.
Once acclimated to a new aquarium, anthias do best when fed a varied diet of frozen mysis shrimp, enriched frozen brine shrimp, and over time may eat high-quality flake foods offered in small quantities throughout the day. An attached refugium cultivating copepods and amphipods provides a steady supply of nutritious live food sure to keep this active planktivore content.