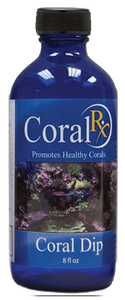 Coral Rx is formulated to promote healthy corals�
Coral Rx was developed in 2006 for two purposes: to treat corals suffering with parasites, and as a prophylactic measure to promote healthy corals before parasites or bacterial infections become harmful. Coral Rx is tough on parasites, yet gentle on your coral (contains no iodine or oxidizers) allowing you to be proactive in protecting your investment.
Coral Rx can be purchased in three different concentration levels: Coral Rx, Coral Rx Pro and Coral Rx Industrial. Coral Rx (8oz) is ideal for retail store sales, and produces approximately 12 gallons of coral dip. Coral Rx Pro (1oz & 4oz) is ideal for online orders to reduce shipping cost, and produces approximately 17 gallons and 66 gallons respectively. Coral Rx Industrial (8oz & 16 oz) is ideal for organizations caring for a large quantity of corals, and produces approximately 295 gallons and 590 gallons respectively.
Independently Tested
Coral Rx was independently tested by Andrew Lynford, M.S. in Biology from Hofstra University. This investigation attempted to quantify the efficacy of three chemical flatworm controls: Flatworm Exit, Coral Rx, and Povidone. His research is available in a featured article published in Advanced Aquarist, April 2009. Below are excerpts of his findings:.
Coral Rx was the most effective treatment�
Coral Rx performed well as a coral dip, and it would be advantageous for coral aquaculturists, wholesalers, retailers, aquariums, and hobbyists to use this product when quarantining newly purchased corals.
Chemical treatments are utilized as a preventative protocol used to eradicate flatworms before they are introduced into an aquarium. These chemical treatments are referred to as a coral dips.
Quarantining corals and live rock with coral dips is the best way to deal with marine flatworms because it prevents their introduction, and circumvents the problems associated with convolutrilobid toxin release.
Harvesting coral reef taxa (species) to replace livestock lost through convolutriloba

 

toxin release is environmentally costly, and should be prevented by using coral dips.