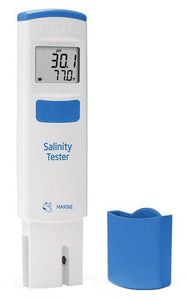 The Hanna Instruments Marine Salinity and Temperature Tester (HI98319) was designed to simplify testing your salt mix`s salinity and temperature in seconds, with reading results in parts per thousand (ppt), Practical Salinity Units (PSU), or specific gravity (S.G.).
This waterproof tester uses a graphite amperometric conductivity probe, which is resistant to oxidation, improving the measurement repetition to determine the salt content in the water. The use of a graphite probe also reduces the polarization effect common with testers that use two stainless steel pins.
Calibration is performed by pressing the dedicated calibration button. Once in calibration mode, the probe is placed in 35.00 ppt calibration standard. When the standard value is recognized and stability reached, the meter will automatically accept and store the value. 
The Hanna Marine Salinity Tester displays the readings along with temperature on an easy to read large LCD screen. 
Better Features for Better Testing
With an onscreen stability indicator you can be confident in the reading results.  
The included auto-off feature will save energy, lengthening your battery life.
Pocket Sized
Perfect size for on-the-go testing.
With large LCD screen, you will be able to view the readings at a glance from any angle.
Long Battery Life
The CR2032 Li-ion battery will provide up to 100 hours of use.
The battery icon will blink when it is time to change the battery.
Graphite Sensors
Graphite sensors reduces polarization effects and does not oxidize, giving you a more reliable and accurate reading.
Durable Case

The design of this tester can withstand drops, knocks, and spills.
The waterproof body will protect the tester from any intrusion
Integrated Temperature Probe

Conductivity measurements are highly sensitive to temperature variations, which the exposed temperature sensor helps compensate for.
The temperature probe takes these variations into consideration to ensure accuracy.
Specifications:
Range
0.0 to 70.0 ppt (g/L)

0.0 to 70.0 PSU

1.000 to 1.041 S.G.

Resolution
0.1 ppt (g/L); 0.1 PSU; 0.001 S.G.
Accuracy (@25ºC/77ºF)
±1 ppt for 0.0 to 40.0 ppt; ±2 ppt for readings over 40.0 ppt

±1 PSU for 0.0 to 40.0 PSU ; ±2 PSU for readings over 40.0 PSU;

±0.001 S.G.

Temperature Range
0.0 to 50.0°C; 32.0 to 122.0°F
Temperature Resolution
0.1°C; 0.1°F
Temperature Accuracy (@ 25°C/77°F)
±0.5°C; 1°F
Calibration
automatic, single point 35.00 ppt
Method
ppt - International Oceanographic Tables

PSU - Standard Methods for the Examination of Water and Wastewater, 2510 B, Electrical Conductivity Method

S.G.- Standard Methods for the Examination of Water and Wastewater, 2510 C, Density Method

Weight
68 g (2.4 oz.) without battery
Temperature Compensation
automatic from 5 to 50.0 ºC
Battery Type / Life
CR2032 3V Li-Ion (1 pc.)/ approximately 100 hours of continuous use
Environment
0 to 50 °C (32 °C to 122 °F); RH max 100%
Ordering Information
Each meter is supplied with: CR2032 battery (inside the meter), Storage / Protection sleeve, Instruction manual, Quality certificate, and 35.00 ppt calibration standard sachet (4 pcs.)