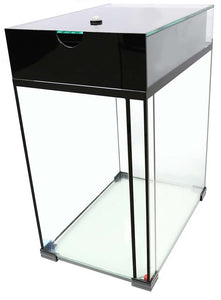 The new Innovative Marine Hydrofill TI Reservoir is the next generation ATO gadget on the market, and now comes in a 15 gallon size, at a mere footprint of 12.01" x 17.99".
The Hydrofill Ti Reservoir eases the pain of refilling your reservoir. With the unique pull-out fill-drawer built into the unit that saves time, saves your floor from spills, and makes refilling your reservoir a breeze.  It is no longer necessary to turn off the ATO, pull out the ATO pump, remove the ATO container to add water, nor, lift the heavy and full ATO reservoir back in place, reinstall the pump, and turn your ATO back on.  Now, just slide out the fill drawer, add water then close drawer - DONE!
The unique hybrid construction of glass body and acrylic refill drawer, give it long lasting durability and every day convenience.
Equipped with a floating level "red" indicator, you'll always know where your water level is at.
The accessible rear opening leaves enough room for RO tubes, power cords, and tubing so no matter how you set up your reservoir, we've got you covered. 

Features:
Pull Out Easy Fill Drawer
Built-In Drawer Stopper
Colored Floating Water Level Indicator
Corner Protectors
Pre-cut rear opening Rear Cord / Cable Ports
Specifications:
15 Gallon Capacity
Dimensions: 12.2" W x 18.2" L x 23" H
Hybrid Glass and Acrylic Construction