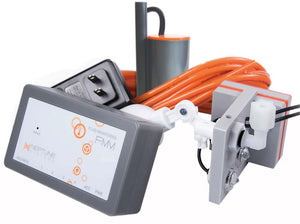 What`s new with for ATK Version 2:
It comes with the all new PMUP v2 with improved longevity and reliability
Improved optical sensors
Safety Made Simple
The ATK (Automatic Top-off Kit) is a simple, standalone, and complete solution for replacing water lost to evaporation - NO APEX NECESSARY.
The new aquarium hobbyist has many challenges, but none is more annoying than the chore of adding water, every day, to make up for that lost to evaporation (a.k.a. topping off/up). This alone usually makes the automatic top-off (ATO) device the first piece of automation equipment purchased.
The ironic flip side of this decision is that a faulty ATO device is one of the leading reasons for catastrophic aquarium failure, or even worse, flooding of the house.
Neptune Systems designed the ATK – Automatic Top-Off Kit to not only be super-simple to install and use, but it is the only ATO device on the market with three layers of redundant monitoring and water-level control. It does the work for you, while at the same time protecting your tank and your home.
PMUP Version 2
The PMUP is a multi-purpose pump that can be used for many different tasks on your aquarium.  Same great quality as the previous PMUP, but is now features an auto shut-off if the wells run dry, an over-temperature protection, new removable protective screen it stand upright on, and is easier to clean/maintain than before.
FMM -Fluid Monitoring Module
This module monitors all the sensors, tells the pump to turn on or off, and sounds an alarm when something is wrong.  It can also connect to any Apex with its AquaBus port.
Improved Optical Water Sensors
Built to provide greater longevity and reliability in a harsh marine environment.
Three Levels of Safety Prevent Overuns
Backup Optical Sensor:

Should the main water level sensor fail, this second optical sensor is the backup. If water continues past the primary sensor, and then covers this one, the pump will be shut off and an alarm will sound.

IQ-Fill

– Water run-time intelligence: If both the primary water sensor AND the backup optical sensor fail, the algorithm used in the ATK will not add more than double the learned water amount. It will shut itself off and sound an alarm.

Physical float valve

– the final backstop: If for some reason all the electronic fail-safes do not work, and water is continuing to be sent to the aquarium, the mechanical float valve is the safety device that will stop the water and prevent death to your aquarium and water on your floor.
Features:
Plug and play ready. No mounts to assemble. No bare wires to attach.
3 Levels of Safety Protection!
Two optical water-level sensors (one for water level and one for emergency back up)
IQ-Fill water run-time intelligence – learns how much water you use at each top-off
Mechanical float valve prevents water overrun if electronics should ever fail
Does NOT rely on ANY fault-prone mechanical float switches, temperature sensors, or capacitive sensors!
Works Standalone (NO APEX NECESSARY!)
Advanced features are unlocked when connected to an Apex (i.e. remote failure notification via text, email, or iOS alert)
Includes PMUP v2, a powerful 24VDC pump that can push water vertically up to 14`
Audible failure alarm
Additional features with optional accessories


Whats in the Box?
FMM – Fluid Monitoring Module (runs standalone)
Pre-assembled water level mechanism with:

Magnetic acrylic mount (works up to 1/4" glass/acrylic)
Two (2) optical water level sensors
Float valve
90 degree tubing fitting

PMUP v2 ATO Pump
24V 36W power supply
4m of orange RO tubing
3/8" -> 1/4" push-fit adapter fitting
1/4" -> 1/4" push-fit siphon break
Set-screw for non-float-valve applications
---
Manufacturer Info
Neptune Systems Aquarium Supplies
Neptune Systems is one of the world's leading manufacturers of aquarium controllers. The company was founded in 1995 for the purpose of developing affordable water quality monitoring and control instrumentation. Their engineering team has extensive expertise in computer hardware and software system design as well as a background in water quality analysis. Neptune Systems uses these finely-honed engineering skills to develop innovative monitoring and control solutions for use in reef and fresh water aquariums, aquaculture tanks, hydroponics systems and general laboratory use. Neptune Systems is best known for their AquaController line. The company is known for their innovation and customer centricity.