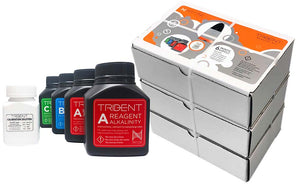 he Trident automated testing system requires Reagent A changed every month, while Reagents B and C every 2 months. Noting the hobbyists` concerns of recurring costs for the test kit or automated system the Trident design team at Neptune Systems have tried keeping those costs as low as possible, being approximately 9¢ per test!
When using Trident`s default testing schedule of four (4) alkalinity, two (2) calcium, and two (2) magnesium tests a day, each kit comes in a 2-month supply of reagents. This 2-month supply of reagents kit measures up to at least 720 alkalinity tests and 360 tests each of Calcium and Magnesium.
Neptune Systems recommends keeping on hand no more Trident reagent than you might expect to consume within the next 12 months.
Bottles included:
6 x Reagent A  (1 bottle changed every month)
3 x Reagent B (changed every two months)
3 x Reagent C (changed every two months)
3 x Calibration Solution
---
Manufacturer Info
Neptune Systems Aquarium Supplies
Neptune Systems is one of the world's leading manufacturers of aquarium controllers. The company was founded in 1995 for the purpose of developing affordable water quality monitoring and control instrumentation. Their engineering team has extensive expertise in computer hardware and software system design as well as a background in water quality analysis. Neptune Systems uses these finely-honed engineering skills to develop innovative monitoring and control solutions for use in reef and fresh water aquariums, aquaculture tanks, hydroponics systems and general laboratory use. Neptune Systems is best known for their AquaController line. The company is known for their innovation and customer centricity.