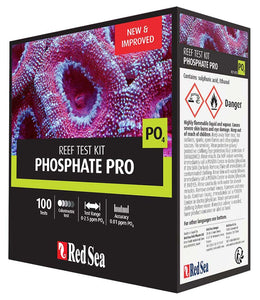 Red Sea's Phosphate Pro Test Kit is an advanced colorimetric test with comparator, measuring the level of phosphate in your reef aquarium to an exceptionally high accuracy of 0.02ppm PO4.
Phosphate Pro Test Kit, when used in conjunction with the Nitrate Pro Test Kit, enables accurate dosing of Red Sea's NO3:PO4- X (Biological Nitrate and Phosphate reducer) which is part of the complete Red Sea Reef Care Program.
Red Sea's Phosphate Pro Test kit includes a durable, chemical resistant plastic case and analytical grade glass vials.
Phosphate Pro Test Kit package size/volume: 100 tests
Red Sea Reef Care Recipes offer easy-to-understand and simple-to-implement instructions for reef maintenance, tailored to each type of aquarium. 3 easy steps for maintaining your reef aquarium. Water changes | Supplementing | Testing.
Select the system type that best describes your reef. The Reef Care Recipe will outline the ideal water parameters for your system, how to maintain them and what products to use.