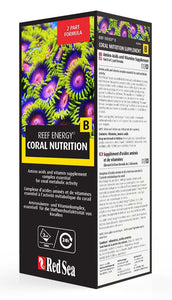 An organic complex of dissolved & suspended energy sources.
Red Sea Reef Energy B is a highly concentrated complex of Vitamins & Amino acids that were found to be the limiting factors in the nutritional demands of corals and other invertebrates.
This complex replenishes the exact vitamins and MAA (marine amino acids) produced by Zooxanthellae. Vitamins are important precursors in the synthesis of chromo proteins while the amino acids are their building blocks.
All of the components of Red Sea Reef Energy B come from marine sources and are emulsified in a unique medium that enhances their solubility and absorption of the vitamins and acids by the corals.
Red Sea Reef Care Recipes offer easy-to-understand and simple-to-implement instructions for reef maintenance, tailored to each type of aquarium. 3 easy steps for maintaining your reef aquarium. Water changes | Supplementing | Testing.
Select the system type that best describes your reef. The Reef Care Recipe will outline the ideal water parameters for your system, how to maintain them and what products to use.