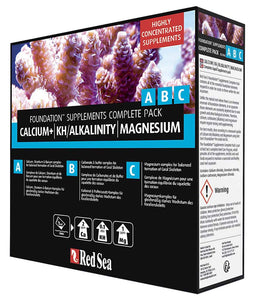 Red Sea Reef Foundation 3-Pack (3x250ml)
A successful coral reef aquarium is dependent upon maintaining the appropriate water parameters that, in turn, provide the stable environment required by the corals.
Although all the elements found in natural seawater have an important role in providing the optimal water parameters, a few of them have a more significant role in the overall stability. These elements are the foundation of the reef environment and they include the three major elements: calcium (Ca), magnesium (Mg) and bicarbonates (HCO3).
These three reef foundation elements have a major effect on the water chemistry (pH stability, alkalinity and seawater ionic strength) and on many of the coral's biological processes (skeleton formation, ions exchange and photosynthesis).
Red Sea's Reef Foundation Program provides a complete solution for maintaining and replenishing the foundation building blocks of the reef aquarium by providing complete and balanced supplements, formulated to work together for long term use and without changing the ionic balance of the water.
Package Includes:
 250mL bottles of Reef Foundation A, B & C
Red Sea Reef Care Recipes offer easy-to-understand and simple-to-implement instructions for reef maintenance, tailored to each type of aquarium. 3 easy steps for maintaining your reef aquarium. Water changes | Supplementing | Testing.
Select the system type that best describes your reef. The Reef Care Recipe will outline the ideal water parameters for your system, how to maintain them and what products to use.