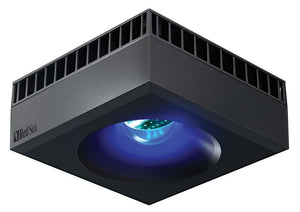 Reef Safe.åÊ Reef Spec. Easy to set up! The Red Sea`s ReefLED 50 watt LED Light Fixture, after years of research and development, was specifically designed to ensure that your coral have optimal growth and dramatic coloration, while creating a pleasant shimmer throughout the aquarium.
The ReefLED 50 use a single, compact, LED array that is focused into the aquarium through a optical-glass hollow lens that blends the LED arrangement, reducing the "disco ball" effect.åÊ The lens is recessed within the compact body of the light fixture, to help reduce glare from the viewing sides of your aquarium.
Corals do best when placed in PAR ranges from 550 to 90 inside the aquarium. The ReefLED`s PAR readings at the water surface when mounted 7 inches above the surface are suited for this range, being approximately 500 at water surface to 100 at a depth of 19 inches beneath the surface.
The ReefLED is totallyåÊreef safe:
First, it only provides the intensity and spectrum of light that are used by corals
40 watts of the 50 that the ReefLED consumes is used by the light fixtures array Red Sea calls "Reef-Spec Blue". This blue is a blend of blue, violet, and ultraviolet wavelengths in a ratio that is equivalent to 23,000 Kelvin. When mixed in with the 8000 Kelvin White 10 watts channel, the color temperature of the light emits a range of the natural light you will find on ocean reef structures up to 30 meters deep, a range where all coral should flourish. At its full 50 watts, the ReefLED spectrum is equivalent to 12,000 Kelvin.
Second, the ReefBeat App includes includes a preset photo-period and acclimation period, as well as warnings if your customizations go outside of the safe zone
The built-in WiFi allows you to control them from any smartphone or tablet device with the use of the ReefBeat Smart Aquarium App.åÊ This app assists you in operating various Red Sea smart devices that are on your aquarium, one interface to set-up, operate, monitor, and receive notifications:

Peace of Mind - ReefBeat is constantly in contact with your ReefLEDs and will notify when communication is lost
Lunar Cycle

åÊ

åÊ

- Your ReefLED can be programmed to mimic a lunar cycle, a 28-day moon phase for the 3 watt moonlight channel, for reef-safe nighttime viewing
Acclimation - An acclimation program for new corals to get used to the light by starting at a lower intensity, gradually increasing it each day, the length of the acclimation period
Weekly Schedule

åÊ

åÊ

- ReefBeat stores your custom lighting schedules, using the same schedule each day, or, a different program for each day of the week
Staggered Sunrise and Sunset

åÊ

- When using multiple ReefLEDs, a time delay between your lights can create a stunning sunrise and sunset effect across your aquarium
Clouds

åÊ

åÊ

- ReefBeat provides a natural "shading" effect for a specified period of the day, with 3 levels of random cloud activity
The Plug and Play set-up is done quickly in two steps.åÊ When you install the first unit simply select from one of three presets: 15000 K, 20,000 K, or 23,000 K, then set your sunrise time, and that`s it!åÊ Any additional ReefLEDs are automatically grouped with the first unit, operating together as a single light source.
Features:
åÊ

REEF-SPEC light output for optimal coral growth and coloration
Homogenous light with a gentle shimmer
Reef-Safe dual-channel color setting plus dedicated moonlights
ReefBeat app for easy set-up, operation, monitoring and notifications
Anti-glare recessed lens
Specifications and Channels:
Dimensions: 4.7" Length x 4.7" Depth x 2" Height
Reef-Spec Blue - 40 watts
8,000K White - 10 watts
Moonlight - 3 watts
Coverage: 20" x 20" x 20"
Mounting Options:
ReefLED 50 Arms

åÊ

are universal mounts that securely attach onto the rear wall of the aquarium and can be rotated (side to side), allowing greater access to the aquarium for reefscaping or tank maintenance.åÊ It is suited for aquariums with widths from 14 to 20" and a glass thickness of 5/16 to 3/8".
ReefLED Unit Recommendations:
Model

Reefer Classic

Reefer XL

Reefer XXL

Peninsula

Nano
170
250
350
450
425
525
625
750
500
650
ReefLED 50
50 watt LED Light Fixture
1
RL50 Adjustable
Mounting Arm
1
---
Manufacturer Info
With a dedicated team of scientists and other professionals, Red Sea is widely recognized as a leading innovator and manufacturer of quality products for aquarium hobbyists. Red Sea constantly strives to provide hobbyists of all levels with highly effective solution-driven products designed to make your fish-keeping experience as enjoyable and successful as possible.

The embodiment of Red Sea‰۪s dedication to providing solutions for today‰۪s reef-keepers is its range of MAX-NANO, MAX-E & MAX-S aquariums- The only choice for true Plug & Play‰ã¢ coral reef aquariums, now featuring the very latest in LED lighting technology.

For advanced reef-keepers the Red Sea REEFER provides a great platform into which you can add your own selection of hardware. With its ultra-clear glass, ATO built-in, silent flow valve and superb quality of finish the REEFER sets the standard for those wishing to customize. REEFER is also available as a Deluxe version with LED lighting included.

Red Sea‰۪s unique Reef Care Program (RCP) provides a comprehensive, safe and easy to use program for testing and supplementing within reef aquaria, and is perfectly complemented by Red Sea‰۪s Coral Pro & Red Sea Salt‰۪s, which has become the salt of choice for those seeking the very highest quality water quality for their coral reef aquariums. Both salts are made using a unique natural process which delivers unrivalled homogeneity and is perfect for delicate corals. Check your individual bucket of salt‰۪s composition using Red Sea‰۪s innovative new ‰ÛÏMyBatch‰۝ software.

Whatever your aquatic needs, Red Sea delivers high quality innovative, solution based products.