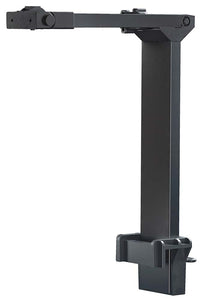 The RL90 ReefLED Mounting Arms are individual mounts that securely attach onto the rear wall of the aquarium and can flip upright, allowing greater access to the aquarium for reefscaping or tank maintenance.
The RL90 is available in three sizes for aquarium widths ranging from 18.25" to 27.5" and glass thickness 5/16" to 3/4"
ReefLED Unit Recommendations:
Model

Reefer Classic

Reefer XL

Reefer XXL

Peninsula

Nano
170
250
350
450
425
525
625
750
500
650
ReefLED 90
90 watt LED Light Fixture
1
2
2
3
2
3
3
4
3
4
RL90 Mounting Arm
(18.25" - 21.25")
1
2
2
3
RL90 Mounting Arm XL
(21.25" - 24.5")
2
3
RL90 Mounting Arm XXL
(24.5" - 27.5")
3
4
RL90 Hanging Kit
(30" - 39")
1
RL90 Hanging Kit
(39" - 48")
1
1
RL90 Hanging Kit
(49" - 60")
1
1
RL90 Hanging Kit
(61" - 72")
1
1
åÊ
---
Manufacturer Info
With a dedicated team of scientists and other professionals, Red Sea is widely recognized as a leading innovator and manufacturer of quality products for aquarium hobbyists. Red Sea constantly strives to provide hobbyists of all levels with highly effective solution-driven products designed to make your fish-keeping experience as enjoyable and successful as possible.

The embodiment of Red Sea‰۪s dedication to providing solutions for today‰۪s reef-keepers is its range of MAX-NANO, MAX-E & MAX-S aquariums- The only choice for true Plug & Play‰ã¢ coral reef aquariums, now featuring the very latest in LED lighting technology.

For advanced reef-keepers the Red Sea REEFER provides a great platform into which you can add your own selection of hardware. With its ultra-clear glass, ATO built-in, silent flow valve and superb quality of finish the REEFER sets the standard for those wishing to customize. REEFER is also available as a Deluxe version with LED lighting included.

Red Sea‰۪s unique Reef Care Program (RCP) provides a comprehensive, safe and easy to use program for testing and supplementing within reef aquaria, and is perfectly complemented by Red Sea‰۪s Coral Pro & Red Sea Salt‰۪s, which has become the salt of choice for those seeking the very highest quality water quality for their coral reef aquariums. Both salts are made using a unique natural process which delivers unrivalled homogeneity and is perfect for delicate corals. Check your individual bucket of salt‰۪s composition using Red Sea‰۪s innovative new ‰ÛÏMyBatch‰۝ software.

Whatever your aquatic needs, Red Sea delivers high quality innovative, solution based products.