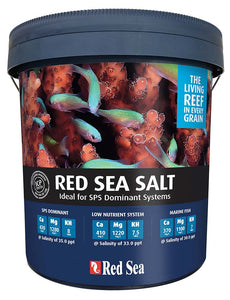 Provides the parameters of NSW with a slightly elevated KH. Ideal for SPS Dominant, UNLS & Marine Fish tanks
Red Sea Salt is designed to provide the exact parameters of tropical reef water with a slightly elevated alkalinity as needed in a closed marine system.

Red Sea salt is ideal for fish and invertebrate systems or for low-nutrient tanks where the hobbyist supplements all of the individual elements on a regular basis.
All-natural Eco-friendly harvesting from the waters of the exotic Red Sea
Biologically balanced levels of foundation elements
Full complement of trace elements
Guaranteed parameters for 10 liter / 2.5 gal mix.
No nitrates or phosphates (algae nutrients)
No toxic levels of Heavy Metals
No chemical binders
Low moisture content
Recommended usage of Red Sea Salt
Aquarium Type
Salinity
Alkalinity (meq/l|dKH)
Section
Ca (mg/l)
Section
Mg (mg/l)
Section
K (mg/l)
Section
Dose
Section
Fish
31.0 ppt
2.4-2.6/ 6.8-7.3
365 – 395
1100-1180
325 – 355
33.4 g/l
Non-Coral Inverts
33.5 ppt
2.6-2.8 / 7.3-7.8
390 – 420
1170 – 1230
360 – 380
36.0 g/l
Corals
35.5 pp
2.75 -2.95 / 7.7-8.2
415 – 445
1240 – 1320
375 – 405
38.2 g/l
Red Sea Salt will produce stable seawater with a pH of 8.2 – 8.5.
Parameters are based on dry salt mixed with RO water
Red Sea Salt Formula
Red Sea Salt contains biologically balanced, elevated levels of the foundation elements (Calcium, Magnesium, Carbonates) necessary for sustainable, accelerated coral growth. Red Sea Salt is ideal for reef aquariums, in particular for LPS and SPS corals, and for growing coral frags.
WARNING as required by state law: This product can expose you to chemicals, including Lithium carbonate and cobalt sulfate, which is known to the State of California to cause cancer and birth defects and other reproductive harm.For more information go to
//www.P65Warnings.ca.gov